India is a place full of adventure and excitement with its vast history. India has such a huge history, ancient architecture and glories stories which bring people to its land. If you are planning to explore India first time then you should consider GOLDEN TRIANGLE TOUR. It is a circuit which include three top cities of India- Delhi, Agra and Jaipur.
When the lovely country of India is listed, and you talk about visiting it, the best location is always suggested and preferred: North India. Now, I'm sure you're wondering how you'll be able to visit all of the beautiful places in North India in a short amount of time, considering that the Northern Part of India covers such a wide area and has so many beautiful places.
But the trouble is how to cover all these amazing places at once. Don't worry here, I am going to reduce your stress by giving you the best advice and it is one of the best leading travel operators in India and it is a "Divyan holiday" tour operator.
Divyan Holiday Travel Operator is one of the best leading travel operators in North India recommended by many visitors around the world as this travel agent will help you easily explore all the beautiful places of India, not more than a week with affordable prices and you will definitely find this super wonderful. Enjoy your trip with a travel agent. Now I will explain to you the Divyan Holidays Travel package from North India so that it will be easy for you to decide your trip.
Recommended Golden Triangle Tour Itineraries :
Golden Triangle Tour Itinerary
Delhi is the capital of India and nation's heart. It is Historical city of India. It has World Class Infrastructure. It has many World Heritage Site and in another word you can say it is India's Heritage city. Delhi is famous for its culture, monuments, food, malls, metro, highways etc. Delhi has many world class monuments like India Gate, Red Fort, Qutub Minar, Lotus Temple, Humayun's Tomb, Laxmi Narayan Temple build by Brila Family etc. Most of the Heritage sites were built during Mughal Peroid. Street food of Delhi also has a unique taste and if you are foodie then you should go old delhi. DTDC, Delhi Tourism Development Corporation, is responsible for growth of Tourism in Delhi. To promote the Delhi Tourism , the Government of Delhi organizes various cultural program and show. Best time to visit delhi during winter last from August to November and pleasant Spring seasons of Feburary to March. You can reach delhi by Air, rail or by road.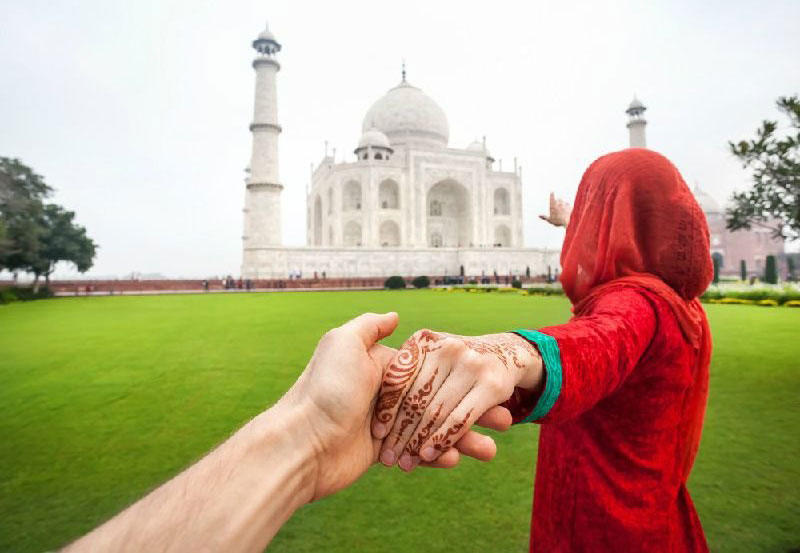 Agra, a city in northern India's Uttar Pradesh state, is the Ancient city of India. Taj Mahal is the main point of attraction in Agra. It is located on the bank of river Yamuna. Every tourist want to see TajMahal once in their life. The Taj Mahal built by the Mughal Emperor Shah Jahan as the final resting place for his favourite Queen, Mumtaz. There are many interesting places to watch like The Inevitable Taj Mahal, Itmad-Ud-Daulah, Agra Fort, Fatehpur Sikri etc. Agra has such a huge impact of Mughal's. There are many monuments which were built by them. Agra not only known for their heritage but also for their hospitality, cuisines, people and many more. Sweets is the speciality of agra. The best time to visit Agra is anytime between November to March when the weather is most pleasant here. There are multiple way to come Agra. Agra Airport is situated at a distance of about 12.5 km from the city center, Agra Cannt is the main railway station here or you can come by road.
Jaipur, the Pink City, is the Capital of India's largest state Rajisthan. If you take one look at the glorious stucco buildings that line Jaipur's wide streets, you'll understand why this is nicknamed "The Pink City." It was founded on 18 November 1727 by Maharaja Sawai Jai Singh II. It is the Royal City of India, you will find many fort around there. In the 2008 Conde Nast Traveller Readers Choice Survey, Jaipur was ranked the 7th best place to visit in Asia. Visitor attractions include the Hawa Mahal, Jal Mahal, City Palace, Amer Fort, Jantar Mantar, Nahargarh Fort, Jaigarh Fort, Sri kali Temple, Birla Mandir, Sanganeri Gate and the Jaipur Zoo. Not just the monuments but Jaipur has strong cultural routes in its shopping habits as well. City offers perfect traditional shops to buy antiques, jewelery, handicrafts, gems, bangles, pottery, carpets, textiles, leather work and metalwork. Some of the famous cuisines include Dal Baati Churma, Missi Roti. October to March can be described as the best time to visit the pink city. You can reach Jaipur by air, rail or road.
For booking : divyanholidays@gmail.com